Drivers and Motor Carriers
Am I Subject to the ELD Rule?
The ELD Rule applies to most motor carriers and drivers who are required to maintain records of duty status (RODS). The rule applies to commercial buses as well as trucks. Canada-and Mexico-domiciled drivers are included, unless they qualify for one of the exceptions to the ELD rule.
ELD Exemptions

Research and Select Your ELD
Make sure that the specific ELD model you are considering is on FMCSA's list of registered, self-certified ELDs. Motor carriers using a device not on this list could be cited for violation of the ELD rule.
View List of ELDs

Understand Your ELD
Before you or your fleet start operating with ELDs, make sure everyone can use the device you've selected to record, edit, certify, and transfer driver logs.
Download Checklist

Transfer Logs Upon Request
Compliant ELDs can electronically transfer HOS data files to safety officials upon request. Below is a quick guide on how to transfer your data, see your ELD user manual for more details.
Download Guide
Why ELDs?
Improving Efficiency
Drivers spend less time on paperwork and more time doing what they do best—driving.
Safer Operations
The ELD rule protects drivers from harassment and coercion by ensuring they get the rest they need to drive safely.
Read more about ELDs, how they can save you time and money, and how they are making roads safer.
Download PDF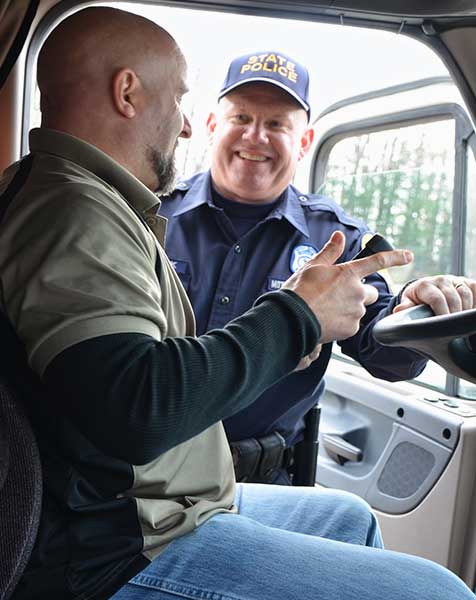 Need more time to repair, replace, or service your ELD?
Motor carriers have 7 days to remedy an issue with their ELD, per the ELD rule. If you need more time, click "Request an Extension" to send an official request to FMCSA.
Need more information on ELDs?
FMCSA has published several responses to frequently asked questions on the ELD rule.
Read the ELD FAQs.
Quick Tips:

Choosing a Compliant ELD
Do your vehicles operate in remote areas?

Some ELDs rely on cellular connectivity to relay information to the smartphone or tablet. This is true of many portable or "BYOD" devices. Consider all factors, including the locations you drive and your ability to connect to cellular networks, when selecting a device.

How many vehicles do you manage?

Whether you have one or 100 vehicles, ELD providers offer a wide range of options that can address your needs. Some devices operate as stand-alone units, some have the capability to connect to a system where you can monitor and supervise a large fleet of vehicles. If you have one or two vehicles, you could consider purchasing a stand-alone unit—just be sure it supports all the minimum requirements in the ELD rule. For guidance on choosing a compliant ELD, see FMCSA's ELD Checklist for Carriers.

Are you running your device's most up-to-date software?

ELD providers that discover bugs or other issues in their devices can often resolve these by fixing the issue in the software and pushing out a software update to their users. To be sure your ELD's software is working as needed, be sure to download and install any software updates as soon as possible after being prompted by the device or notified by your ELD provider.
More Resources for Motor Carriers
To help motor carriers comply with the ELD rule, FMCSA has created an online resource with checklists, FAQs, brochures, fact sheets, and more.