What's New?
The ELD provider website is now FMCSA's new online home for all things ELD, with a new URL: https://eld.fmcsa.dot.gov. Below are some of the new features you can access on the new ELD home page.
ELD Providers Landing Page and Updated Login
You can still find all the information you are accustomed to seeing on the ELD Providers landing page and in the ELD Provider Portal. Once logged in, you will be able to access select information right from the provider landing page.
The login screen has been updated, users will need to log in as either an ELD provider or FMCSA enforcement personnel. You can still use your current Provider Account to log in. Click the "Log In" button at the top right of the screen and use your credentials under "ELD Provider Portal Login" (left side).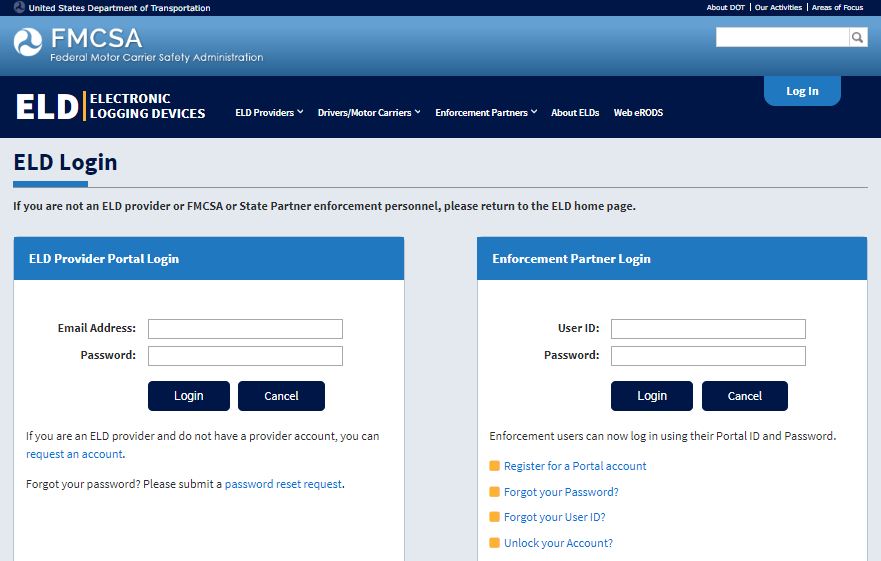 Web eRODS
Safety officials review data from ELD output files in the Electronic Record of Duty Status (eRODS) software. With the new ELD website, we are making this version of Web eRODS available to the public, including motor carriers and their representatives, no login required. The public version of Web eRODS is available at https://eld.fmcsa.dot.gov/eRODS.
You will also note that there is an enforcement view that requires login—this allows FMCSA enforcement personnel to search the eRODS Web Service for submitted files. This version is only available to FMCSA enforcement users.
As an ELD provider, you have had access to a web-based version of the eRODS software (referred to as "enforcement view"). FMCSA gave providers access to this to assist you in ensuring your device is generating files that meet the requirements of the ELD rule. You can still continue to access the Web eRODS display of your test files that you have either submitted to the FMCSA File Validator or successfully submitted to the FMCSA Web Service in the ELD Provider Portal (see 'File Validator Archive' and 'ELD Test Output Files').
Motor Carrier/Driver Resources
The new ELD website offers a landing page for motor carriers and drivers. This includes a reminder about training staff on ELD use. You can help your customers in this area by ensuring that your device user manuals are complete and keeping your listing on the FMCSA's ELD list up-to-date.
To update your device listing:
Log into the ELD Provider Portal.
Click on 'Manage Your Devices' in the left side navigation.
Select "Edit" for the appropriate device.
Select "Replace" to upload updated files.
Click "Agree & Submit" to save changes.